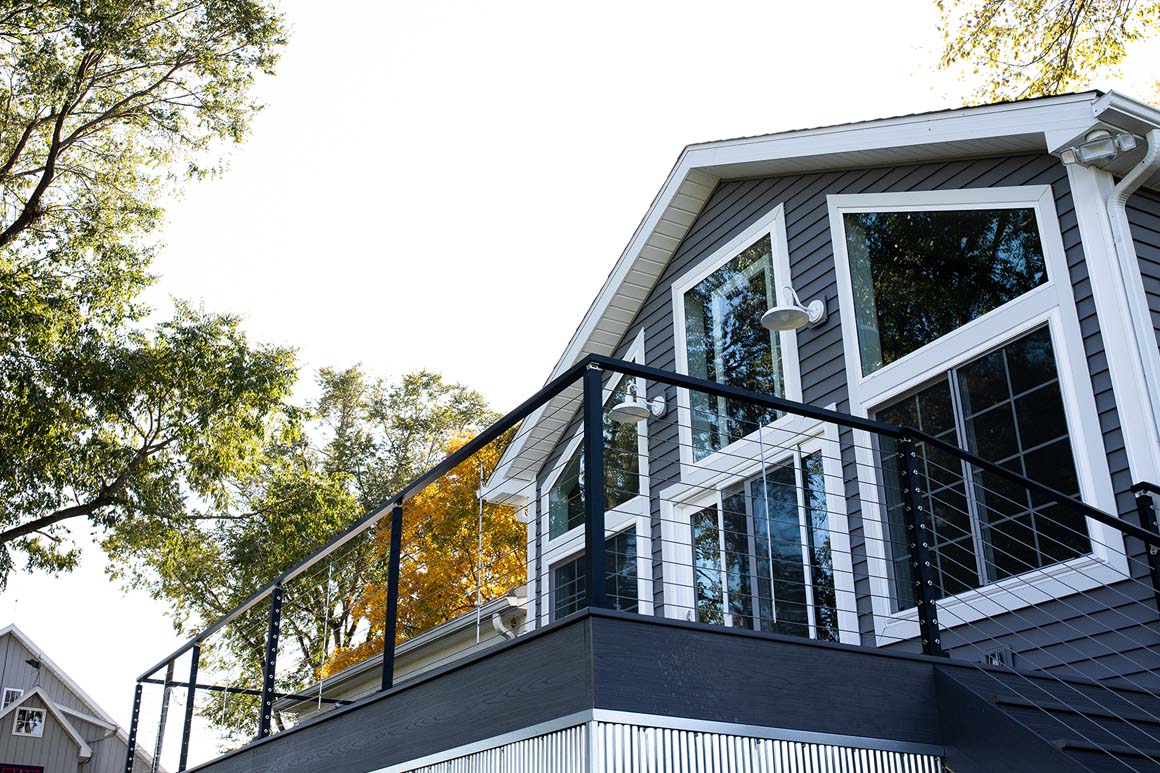 5 Simple Ways to Modernize Your Home

The biggest challenge for any homeowner or contractor is balancing trendy updates with classic value. You need elements that are both modern and timeless, which is easier said than done. If you're looking for ways to modernize your home without completely remodeling it, start with these simple ideas:
1. Refresh your paint
Faded paint makes a home look dated. Adding a fresh coat revives the color. When you're ready, the vibrancy will also draw the eyes of prospective buyers. One modern trend to consider is adding an accent wall in a room or two. For example, in a room of white walls, you can make a statement by painting one wall black—or even a bright color like yellow or turquoise.
Whether you're painting your shutters, bedrooms, or the entire house, a fresh coat of paint is a budget-friendly way to make your home shine.
2. Focus on shapes and angles
Waves and curves are out in today's fashion. Modern homes have clear-cut angles and shapes—in décor pieces, fixtures, and even railing designs. Something as simple as replacing handles on cabinets or changing out a few picture frames and mirrors can give your home a modern flair. If you have a staircase or deck with soft, curving railings, consider updating those to reflect the angular style of the day.
3. Invest in appealing materials
Glass and stainless steel are cornerstones of the modern movement. You might be surprised at the difference you see when you replace dated fixtures with sleeker materials. Frosted glass is especially popular because of its ability to offer a beautiful touch without sacrificing privacy. As you plan to upgrade your home, look for places where you can implement new materials – whether it's in your windows, on countertops, or even on your railing.
4. Simplify, simplify, simplify
Minimalism complements modernism. Today's homeowners maintain a "less is more" mentality, which means everything you invest in should be intentional.
"Modernism asks you to make deliberate choices, looking for pieces that really stand on their own, while still making a major impact."
 —Corine Maggio, founder of a California-based design company
5. Evaluate your curb appeal
The inside of your home might be gorgeous—but if it looks cheap or run-down on the outside, no one will care. How can you improve your curb appeal? It might involve redoing your front porch, updating your deck, or adding new architectural elements. One simple addition that will give your home an edge is installing cable railing, which provides a sophisticated, modern aesthetic.
Ready to get started?
It's no secret: We're huge proponents of cable railing, and we believe it'll make a night-and-day difference in your home's style. If you have a vision in mind, our team at Cable Bullet wants to help you turn it into a reality. 
Whether you're a contractor who wants to build a place everyone wants or you're a new homeowner looking for a simple DIY project, you can modernize your home with any of our cable railing products—and we'll provide all the installation tips and tricks you need to get started. Get a free estimate for your next project today.
Before starting any project, check your state and local requirements for railings. The Cable Bullet system meets the International Residential Code (IRC), but some states have additional requirements. For more information, review our terms & conditions.