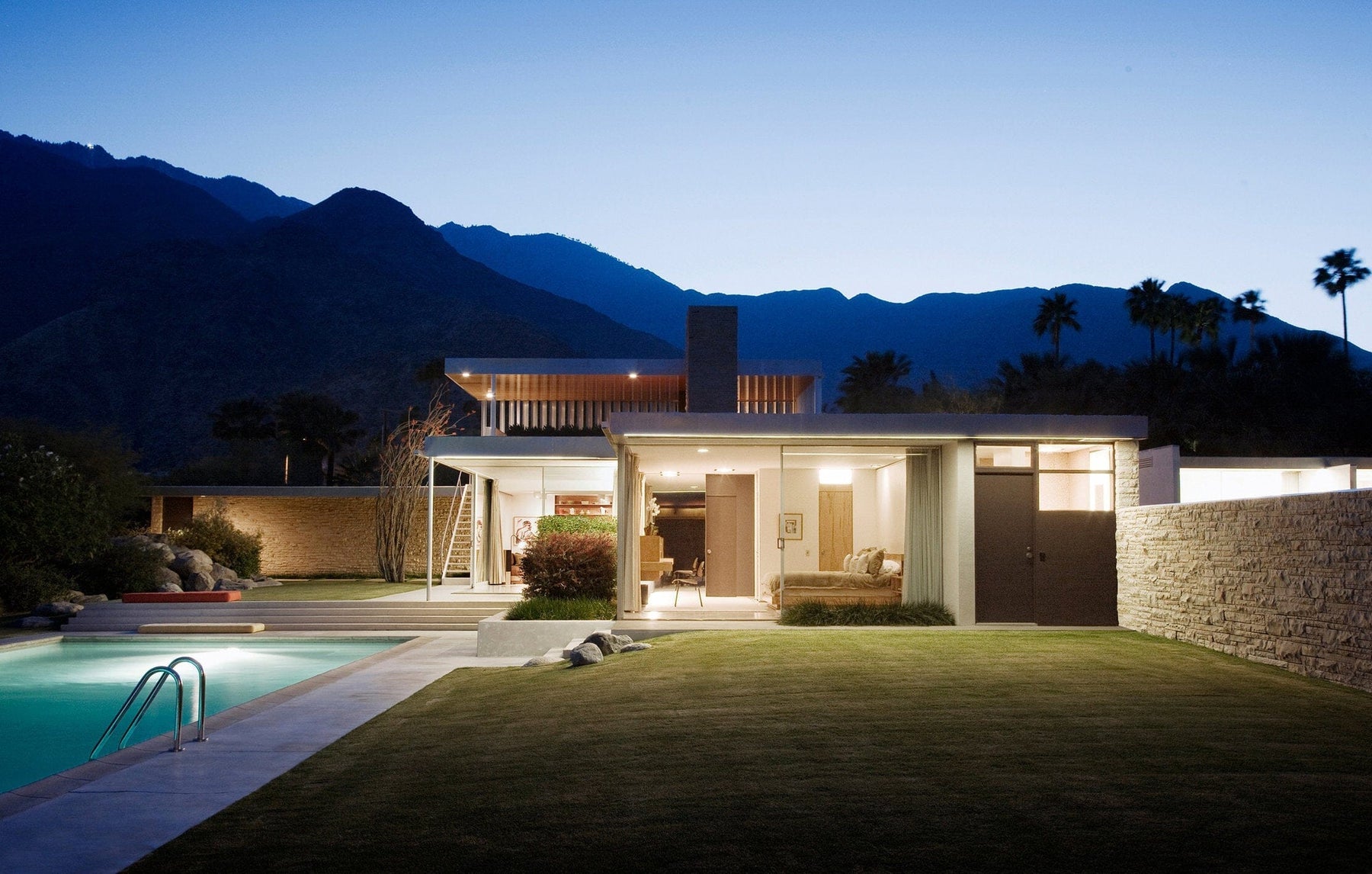 A Primer on Design
It's hard to argue against the home being the epicenter of life. It's the safe space where — by concept and intention — a person has the opportunity to rest, relax and recharge: the place that brings life to both you and yours. 

Homes are intentionally built with rooms for recharging: the bedroom to nap, kitchen for nourishment, the bathroom for a refreshing shower and dining room for fellowship. That's their function — and that's why there's no place like home. 

That's said, let's lean into form: architecture design and décor. The following is a short-list of a few architectural aesthetics as it relates to the residential sphere.
Mid-century Modern
Kauffman Desert House in Palm Springs, California Image Source
Mid-century Modern is an American movement in interior design, architecture and urban development during the United States' post-World War II period, and prominent through the late '60s. Mid-century Modern has roots in Bauhaus, which emerged from early 20th century German architectural aesthetics with a "less is more" approach that still resonates today. 

Mid-century Modern design is characterized by clean lines with a lack of frills but often accented with bright, bold colors. 

In contemporary culture, it carries a retro-futuristic feel. Palm Springs, California is a great example of Mid-century Modern — predominantly the Kaufmann House, considered "an architectural marvel that helped define the modernist aesthetic of the resort city." The desert house was commissioned by Edgar J. Kaufmann Sr. who also asked for Fallingwater, a famous Pennsylvania residence by Frank Lloyd Wright. 
As for décor, the Barcelona Chair and the popular Eames Lounge Chair are famous fixtures of MCM. 
The Farmhouse 

Image Source
In contrast, the modern farmhouse is comfy, cozy and full of charm, accented with neutral warm colors, vintage antiques and salvaged wood. The fine trim work is often ornate but not ostentatious — coffered ceilings, crown molding and Shiplap compliment hardwood floor, rustic beams and custom barn doors. Windows are everywhere, but tend to be cased with depth, frequently with flared rams in a Highland style. 

Beyond antiques, a common piece of décor in a modern farmhouse is the farm table, sometimes referred to as harvest tables.

Overall, this interior aesthetic celebrates the classic Americana craftsman. Elements of this style will continue strong into 2023.
Modern Industrial

Image Source
Industrial interior design is recognized by its exposure of utilitarian elements. This weathered warehouse style has been a continuing trend, not only in the residential sphere but also in restaurants. Old brick, concrete, exposed framing, visible ducts and repurposed elements (such as upcycled gas pipes for table legs). Darker colors often paint the rooms, while Edison light bulbs — where you can see the glowing filament — frequently hang to highlight the distressed design style. 
Your Signature Style | authenticity. diversity. balance.
There are many styles that haven't been touched upon: Scandinavian, Coastal, Southwestern, Bohemian, Zen, Minimalist and more. What's most important for a homeowner is to be true to taste, including the diversity of your preferences, and keeping balance in your vision.

Here is the interior of a cozy Chalet-style home nestled within the ponderosa pines of Woodland Park, Colorado. 

A cozy Chalet home near Pike National Forest in Colorado (Image courtesy of Christine Costa of Deadtree Workshop, Colorado Springs, CO @deadtreeworkshop)

This home carries elements of Scandinavian style. The home is balanced with some modern, clean elements; retro Mid-century Modern accents; and with a little bit of Bohemian thrown in. None of the facets are to any extreme, so they play well together. 

Cable Bullet provides a variety of tension railing kits that compliment a diversity of design styles and elements, whether you are working with wood posts, vinyl or composite material, masonry or metal. Cable tension railing allows for a fashionable, modern look to compliment or accent your home's design — whether it's chosen for a stairway, loft, patio or pool. 
Find Your Fit
Cable railing comes in an assortment of styles, so you won't have any trouble finding the perfect fit for your home. Making the best decision might seem intimidating, but our team at Cable Bullet is always here to answer questions and set you on the right track. If you're ready to turn your vision for cable railing into a reality, get a free estimate from our experts today.

For a photo gallery of finished installations, click here or visit our Instagram: @cablebullet

Before starting any project, check your state and local requirements for railings. The Cable Bullet system meets the International Residential Code (IRC), but some states have additional requirements. For more information, review our terms and conditions.