How difficult is this project?
This project is: DIY-friendly
Adding cable infill to Cable Bullet Venture series posts is a simple, straightforward process. No external hardware needed. All necessary cable fittings are included with Venture series tensioning posts.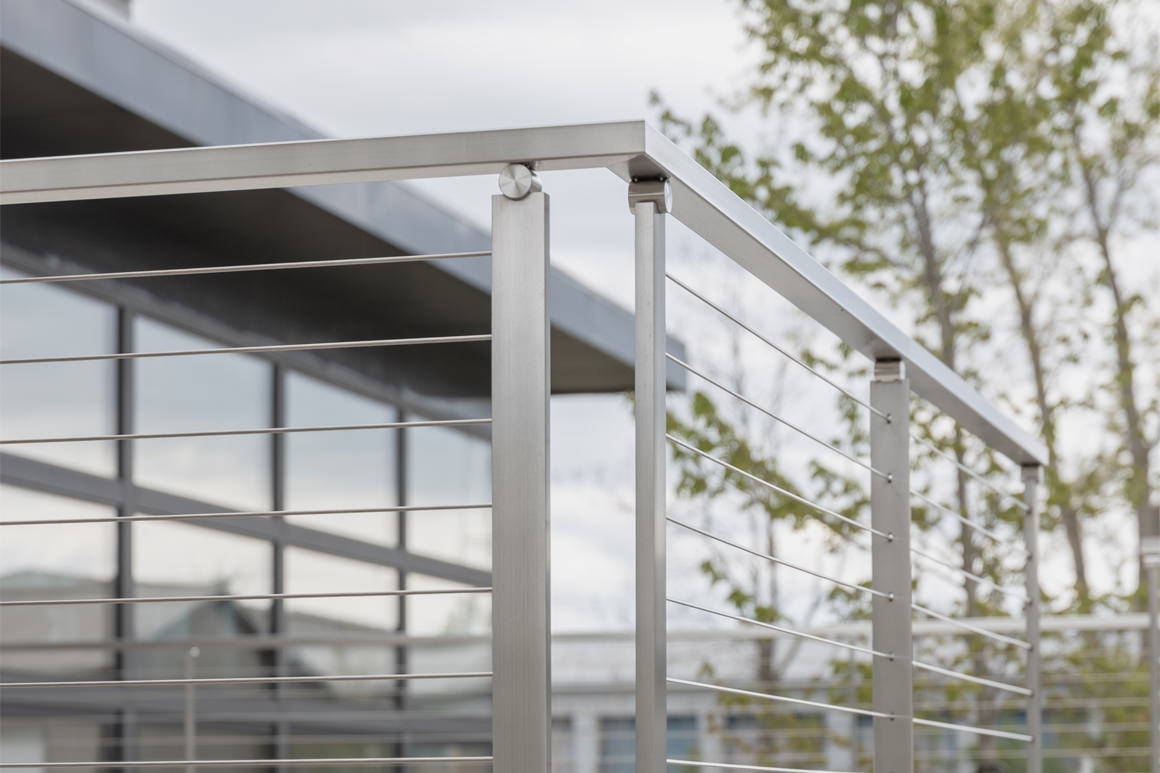 Complete your deck, patio, or stairs with the modern look of cable railing without all the external, bulky hardware. Cable Bullet Venture series posts feature an integrated cable tensioning system, so you can have the cleanest, least obstructed view possible.
No need to buy external tensioners or separate cable fittings. All the hardware you'll need for tensioning your cable runs is included with each Venture series end post, for lower costs and simpler installation.  
Download the instructions:
---
Supplies:
Cable end fittings included with each post: crimp sleeves, lobed washers, and 1/4-20 set screws (36" posts 11 each, 42" posts 13 each)
Cable spacer bar kits (optional)
Shop rags
1" painter's tape (optional)
Tools:
Venture series installation kit 

16 Ton Hydraulic Crimping Tool
Cable Cutter
Magnetic Multi-Bit Screw Driver
Allen Wrenches (1/8" and 3/16")
6" Hex Socket Head Power Bit (1/8")
T30 x 6" Star Drive Power Bit
Venture series spare parts bundle
INSTALLATION INSTRUCTIONS
PLEASE NOTE: All Cable Bullet recommendations and rail components are designed to comply with the International Residential Code (IRC). However, because building codes may vary it is the installer's responsibility to verify that the installed system complies with all applicable state and local building codes.
For more information on Cable Bullet and building code standards, visit our terms page.
Use an 1/8" Allen wrench (or hex bit) to remove the pre-installed set screws from the tensioning post channels. These are essential for tensioning your cables, so take care to place them in a secure spot. 
Apply a drop of Boeshield T-9 lubricant to each set screw channel to ease installation and reduce the likelihood of seizing, passivate the stainless, and help prevent corrosion.
3.| fixed spacer bars (optional)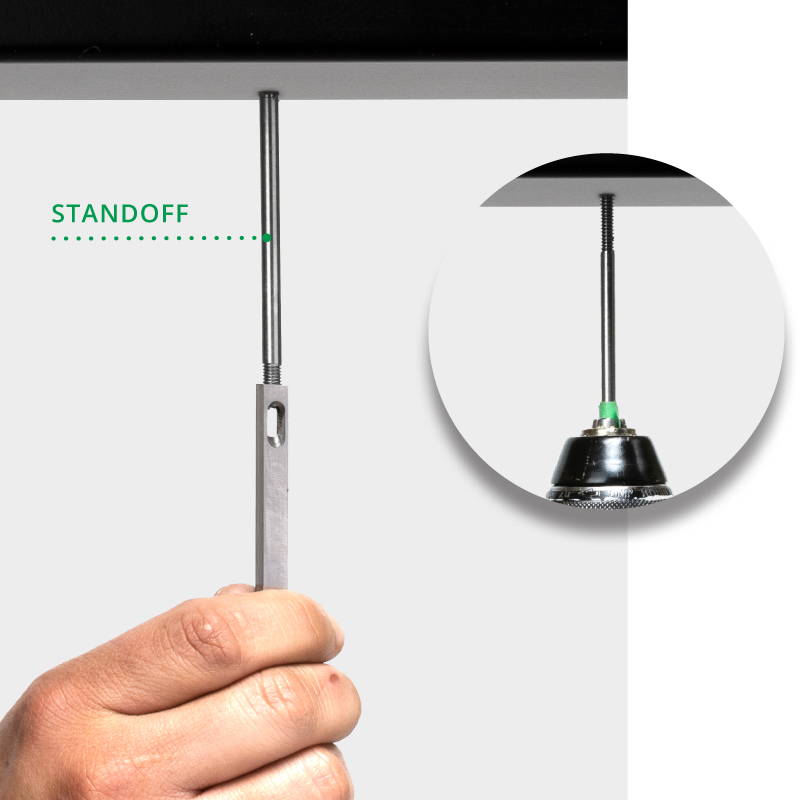 Spacer Bar Standoff
Fixed spacer bars attach to the top rail using a standoff. Use a #25 drill bit for the pilot hole, and tap for 10-24 NC. Use a drill to set the standoff, then thread the spacer bar onto the standoff.
PRO TIP: Protect the finish and threads on your standoff during installation with a piece of painter's tape.
4.| cut rough cable lengths
Measure your runs and cut oversized, rough lengths of cable for each. Leave an extra few inches so as not to end up short. You will make a finish cut later.
Fit the first end of your cable with a lobed washer and crimp sleeve. Use the Cable Bullet crimper to firmly set the crimp. This should take 10-12 pumps. A properly crimped cable end will show a distinct hexagonal imprint pattern.
CAUTION: A properly crimped cable end is essential to maintaining the integrity and safety of your cable. A weak connection will slip over time or fail against an impact load!
Insert the crimped cable and lobed washer into the tensioning channel and use an 1/8" Allen or hex socket power bit to advance the set screw until it is flush with the face of the post.
CAUTION: To minimize the risk of cross-threading or galling, use a manual socket screw driver or Allen wrench.
With the crimped end locked in place, thread your cable through all the intermediate posts and spacer bars.
PRO TIP: Tape your floating spacer bars to the closest post until all your cables are set.
8.| cut exact cable lengths
Pull the cable hand-tight, measure an inch past the face of the post, and make your finish cut.
Repeat steps #5 and #6 to secure the second end of your cable, then repeat the entire process for each of your cables.
Once all your cables are in place, begin tensioning each run from the innermost cable outwards.
How tight is tight enough?
Take care not to over-tighten the cables. A properly tensioned cable will deflect approximately 1/4" per foot under a 50# load.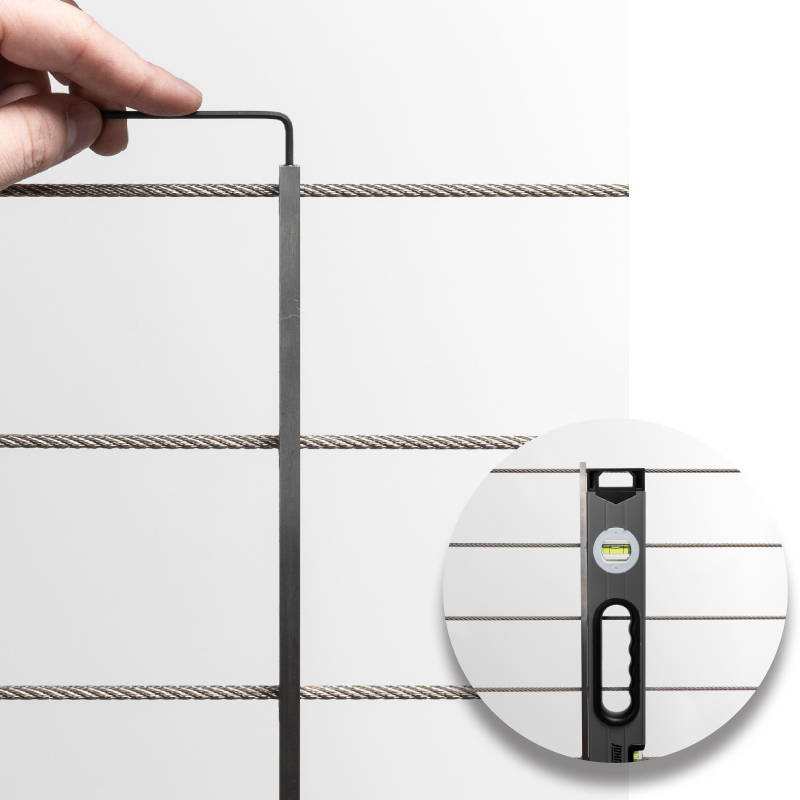 Position and lock your floating cable spacer bars in place by advancing the set screw top and bottom.