Installing Venture Series Cable Rail Posts
Watch this video covering installaion instructions for the Venture series cable rail posts. The video also includes a basic overview of Venture series railing, how to install top and side mount posts, and add cable infill.
How difficult is this project?
This project is: Intermediate - Advanced
Installing Venture series side mount posts on level runs is a straight-forward process requiring accurate measurement. Take special care to consider your post layout around stairs. Venture series posts are made from solid bar stock, so modifying or cutting posts down on site is not realistic.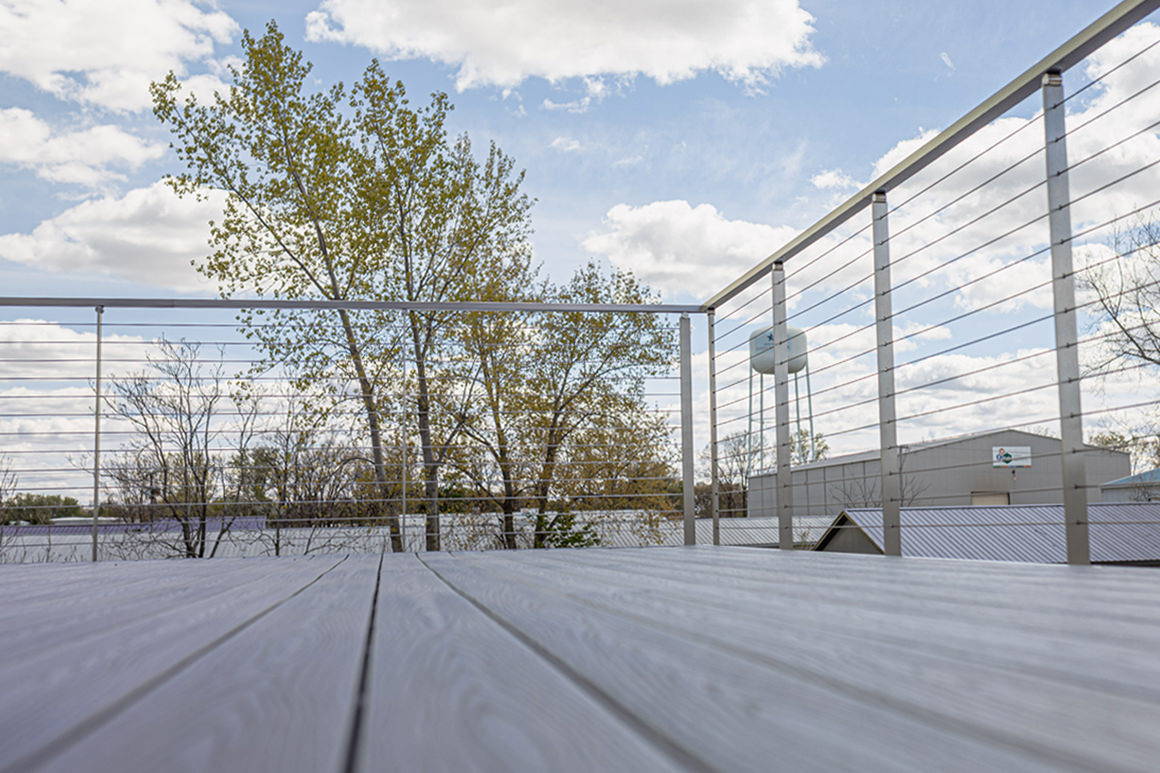 Make the most of your space and enjoy a clearer view with Venture series side mount posts. Installed on the outside face of your deck or stairs, side mount posts maximize surface space and allow for simpler installation. Stainless steel railing is the preferred choice for cable rail projects in any coastal environment, adding a modern, sleek look to any project.
If properly maintained, stainless steel railing can provide a lifetime of beauty and reliability. Read more on proper stainless steel care and maintenance here.
Durability in harsh outdoor environments and flexible post placement options make Venture side mount posts a sleek choice for any modern railing project.
Download the installation instructions:
---
The structure supporting your posts must be able to handle the transferred loads of the railing system (+150 lbs of tension per cable). It is the installer's responsibility to make certain that the structure your posts are fastened to is capable of supporting the applied loads. Always install blocking underneath your post locations!
 
Handrail Selection & Support
Your choice of handrail material and thickness will ultimately determine your support post spacing. Handrails are also a structural component of cable railing and must be able to resist both the compression load of the cables, and the required perpendicular guardrail loads.


Does your project include stairs?
Check out the guide below for post placement recommendations on stair runs. Consider your project specifications and layout before starting your installation.
---
Supplies:
Bracket mounting screws (see Setup Guide)
Post mounting screws (included with posts)
Plastic composite shims
Tools:
Drill/impact driver (3/16" bit; 1/4" bit optional)
T30 Star driver (driver for post mounting screws)
Level
Tape measure
Chalk line (optional)
installation instructions
Project Guidelines
End posts can be spaced up to 20 feet apart (using 5/32" diameter 7x7 cable). To ensure adequate cable tension (150#), install additional end posts back-to-back to cover longer runs.  
F

or 90-degree corners

use back-to-back end posts. To turn 45-degrees, consider using 2 structural intermediate posts.  
Add cable spacer barsor cable support posts every 42–48 inches to minimize cable deflection under load.
S

upport your handrail

as needed with tensioning posts. See Setup Guide for post spacing recommendations (handrail selection will determine structural post spacing).
PLEASE NOTE: All Cable Bullet recommendations and rail components are designed to comply with the International Residential Code (IRC). However, because building codes may vary it is the installer's responsibility to verify that the installed system complies with all applicable state and local building codes. For more information on Cable Bullet and building code standards, visit our terms page.
2.| find bracket location
Use your post layout to find the location of each post bracket. See Setup Guide for recommendations.
Set the bracket aside and drill a single 3/16" pilot hole.
PRO TIP: Mark the mounting screw location with a 1/4" drill bit to keep the bracket from wandering and best center the 3/16" pilot hole in the bracket.  
4.| drive 1st mounting screw
With the bracket in place, drive in the first bracket mounting screw, but do not tighten all the way. Check that bracket is level.
Mark the second screw location, drill a pilot hole, and drive in the second screw. Check that the bracket is level and plumb.
Repeat the process for the remaining bracket mounting screws. Check that bracket is level and plumb, then tighten all screws.
PRO TIP: Use plastic composite shims to plumb and level your post bracket, if necessary.  
Place a post inside the bracket, aligning the tapped holes. Use the head cap screws included with the post and a 3/16" Allen wrench to secure the post inside the bracket. Check that the post is plumb. Repeat the process until all brackets and structural posts are installed.